Everybody loves bacon! Right? RIGHT!!??? 笑
If you don't love bacon, you are probably Jewish, or Muslim, or vegetarian. (宗教でベーコン食べれない方とか) ...or just crazy. 笑 It's delicious!
Good quality bacon can be difficult to find in Japan, and it is a little expensive. This is thick-cut American bacon. I found it in an imported goods store.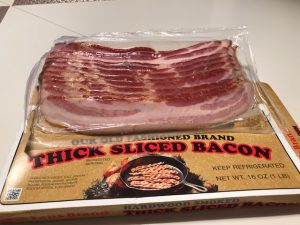 It was about 1,000yen for 453g. So, a little expensive, but it's worth it! Here's the reason:
Bacon fat!
This is a cooking trick my Dad taught me:
When you cook good quality bacon, there will be a lot of fat left over in the pan. Don't throw it away!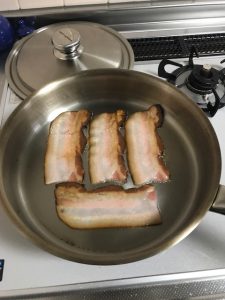 Tip the pan and pour the bacon fat into a glass container, or a small coffee cup.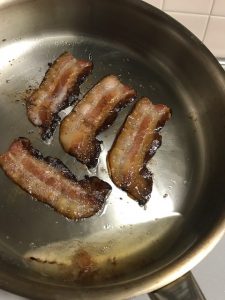 If you strain it, you can keep it for a long time. If you will use it within about a week, you don't need to strain it. (濾したら結構長く持てるけど一週間以内に使う予定だったら濾さなくても大丈夫) Cover the container with saran-wrap and keep it in the fridge.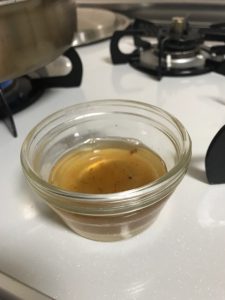 When it cools it will become solid.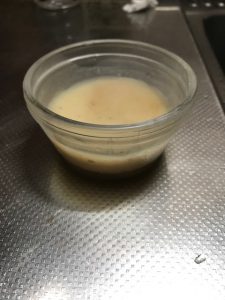 You can use bacon fat instead of oil or butter when you cook other foods. You will get a delicious bacon taste and smell from the fat (but not too strong).
I usually use bacon fat when I cook fried rice, eggs (fried or scrambled), and stir-fried vegetables. You can also use it to greese baking pans. I use it to greese the baking pan when I make a quiche (キッシュ).
So, when you buy good quality bacon, you can eat delicous bacon AND get bacon fat to use in other foods too! Also, it's good for your skin! コラーゲンたっぷりだもん♪
Bacon fat! Yeah!!
Follow Gogoエイブ会話 on Twitter for lots of cool stuff!