Long time no see!
Hello! Thanks for coming and checking out the blog! It has been a looooonnng time since I posted. (>_<)
Sorry about that!
I will be posting more often from now on, and soon we will be using twitter as well. We haven't started yet, but you can find us @55englishjp We will start posting English learning tips and mini lessons with the help of one of my friends.
Annnnnnyway, Spring is here! That means it is time to start exercising and getting ready for summer! (今まで怠けて来たので必死になって...笑)
Exercise is important, but I think that if you want to lose weight, the most important thing is to control what you eat. I find it easy to control breakfast and dinner – because I am usually at home.
But what about LUNCH?? I always eat out for lunch because my company does not have a lunch room. Also, I have to get away from the office to refresh my mind! (狂って行かないように)
The problem is, eating at restaurants is usually not very healthy. 松屋 had a nice 豆腐キムチチゲ that I think was pretty healthy, but they stopped selling it recently – I guess it is a winter food : (
Sometimes I'll eat udon which is pretty low-calorie (かな?). But recently my favorite is this Japanese style lunch set! Today was fried chicken and daikon oroshi sauce, so actually it wasn't that healthy, but the main dish changes everyday.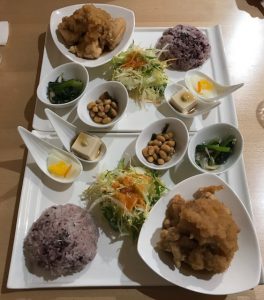 Do you think this is a healthy lunch? I think it is better than many of the other lunch sets in my area.
Do you have any ideas for healthy lunches? Please let me know!
Facebook: GoGo エイブ会話
Twitter: @55englishjp
P.S. When I update the blog, I will post in Twitter, so please follow if you are interested in knowing when there is a new blog post! (今はゼロ人ですけど 笑)
Have an awesome day!!!
-エイブ