Hello!
The first time Yoshi and I recorded a "GoGoエイブ会話" style conversation we were in a bar drinking beer(それはそんなに"surprising!"じゃないかも知れない)笑. We used only a smartphone to record the conversation. Yoshi had an interesting story, and the conversation was about 7 minutes long. それで、GoGoエイブ会話 was born!
We had the concept, so it was time to give it a try. Our goal was to make something that people can listen to for English practice, but also just for fun. We wanted it to be welcoming for people at all English levels.
At first, we tried many things...(今聞くと縮み上がる(>_<)笑) If you have listened from the beginning, maybe you remember: "まずは出てくる単語を押さえておきましょう..." and some other things we tried to make the podcast more approachable.
Luckily, we got valuable feedback from listeners (thank you!!!), and we started making the podcast longer, more silly and natural, and less edited (Yoshi spent hours editing our early episodes!). We are always super happy to get feedback, and now we are having more fun than ever doing the podcast!
Many listeners requested a trascript of the episodes - and we realized that would be very helpful for many people that have trouble listening... But we wanted to do something special and different... それで the "
GoGo Reader
" was born! It took a really long time to develop, but finally it has been released! Yaaayy!
We are so happy that we can provide "GoGoエイブ会話" for free!(ポッドキャストってすごいものですね!), and also the "
GoGo Reader
" ... for frrrreeeeeeee!笑 We will add one more free episode this week, so there will be 3 free episodes on the app soon. We are trying hard to make the "GoGo Reader" the BEST! We want it to be the most high quality experience possible. So, if you have tried it and have any thoughts, questions, or any feedback at all - please tell us! We will continue to improve it as much as we can. I really like that it looks like a smartphone chat... What do you think?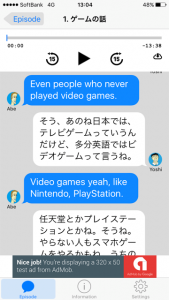 Aaannyway, we will try to get better and grow our silly little podcast as long as there are people that want to listen! BIG THANK YOU to everyone and よろしくお願いします for the future! I wish we could give everything away for free, but in order to continue (and hopefully grow) we need to at least break even(笑). I'm hoping that we can get professional microphones later this year! Wooo-hoooo!! Shooting for the stars! 笑
Please tell a friend, rate / review us on itunes, or just say hello on Facebook!
Coming to
GoGo Reader
this week!
#5 間接キッスのおもひで
#38 ゴルゴンゾーラ
#72 Strange News! (←I like this one)
Aaaand FREE (#2)ラーメン for everyone!!!!
Have a great week!
-エイブ