Long time no see!  お久しぶり〜
I have been a little bit lazy recently, and have not made a blog post in a long time. Sorry about the long delay!
Actually, I didn't think very many people were reading the blog, but Yoshi told me there are quite a few visitors to the page, so thank you for visiting our site!
A few episodes ago on GoGoエイブ会話 I talked to Yoshi about going to the "morning market". That is my favorite way to spend my lunch hour. I can forget about work for awhile and enjoy checking out all the different shops. It's refreshing!
I often buy vegetables and fish there... Sometimes "mysterious" vegetables like 金時草 (笑). For fish, I buy tuna steaks the most, and salmon once in awhile. Recently I went there planning to buy tuna, but the tuna steaks were all sold out! :(
I searched the other shops for something similar, but I could only find expensive "sashimi" type tuna. Then I found something that looked quite similar... It was shark meat! Whaaaaaat!?!??
The shopkeeper was very friendly. She recommended to cook it in a frying pan with just salt and pepper – so simple! I decided to give it a try.
I took it home and cooked it with butter, salt, pepper, and a little bit of lemon. I noticed the meat was more dense than tuna, so I cooked it a little bit longer. It tasted great! It's very similar to tuna, but less expensive. I'm not sure what kind of shark it was, but you can see in the picture what it looks like. The meat looks like tuna but the colour is more pink.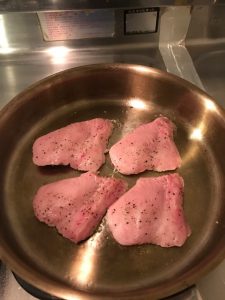 If you have never tried it before, give shark a try! :) It's better than I expected!
-エイブ