I love rice! Since I moved to Japan, I've been eating rice a lot. I eat white rice almost everyday for lunch – I often go to Matsuya on my lunch break. (ヨシはやっぱり吉野家のほうが好きだけど)
At home, we usually cook brown rice with some extra healthy whole grains added for more fibre and less calories. ;)
In Canada there is not one main food like rice in Japan. Bread, potatoes, pasta, and rice are all common depending on the meal. I love rice, but sometimes I want to eat something different...
I noticed that in Japan potatoes are popular, but are usually put in soups, currys, stews, etc, and are not often served alone (except at McDonald's 笑). SO, today I'll share a super easy and delicous way to make potatoes!
Maybe you have tried "mashed potatoes" before, but have you ever tried making them? It's super easy!! All you need is a pot with a lid, a fork, and a few very simple ingredients.
-Potatoes
-Butter
-Garlic (tube is OK)
-Salt + Pepper
-Milk or Cream or Soy Milk
1) Peel the potatoes (try using a vegetable peeler! 笑)
2) Boil the potatoes in water – stab them with a fork to make sure they are cooked all the way through.
3) Use the lid of the pot to block the cooked potatoes, and pour out the water.
4) Mash the potatoes thoroughly with a fork.
5) Add butter, salt, pepper, and garlic – continue to mash and mix.
6) Add a little bit of milk or cream or soy milk – continue to mash and mix - continue to taste and add more milk / salt / garlic until the mashed potatoes are perfect!
That's it! All done! Super easyでしょう!?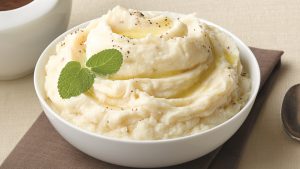 Mashed potatoes are great with chicken, beef, or pork!
Mashed Potatoes! Ohhhh Yeeaaaaahhhhh! :)