Happy New Year everyone!
I hope you had a great holiday! I was very lucky – almost two weeks vacation. Unfortunately, I caught a cold on January 1st, so 2017 has not been a good year so far. :P
This year I stayed in Japan for the holidays. On Christmas I felt a little homesick, so I decided to make a Christmas dinner. In Canada, a traditional Christmas dinner is usually: roast turkey, mashed potatoes with gravy sauce, stuffing, and some other vegetables, like brussel sprouts (芽キャベツ).
The first step was to buy a whole bird. Turkeys are too big, and not common in Japan, so I decided to buy a chicken. We went to a special supermarket where they normally sell whole chickens... But I couldn't find one! "Maybe they are all sold out because of Christmas", I thought. Then, at the bottom of the freezer, I found the last frozen chicken! It was very small (only 1kg), but I was so happy that I had got the last chicken.
After that we went to a regular supermarket to buy all the other things. However, while we were shopping, I found out they were selling special Christmas chickens! These chickens were nice and big, and they were not frozen. I felt so lucky to find the first chicken, but I was worried because when you make stuffing, you need to put the stuffing mixture inside the bird, and the 1kg chicken might be too small.
So, I decided to buy another chicken. Also this chicken was not frozen, so I could start cooking right away. Now with all the ingredients and TWO chickens (笑) It was finally time to go home and start cooking.
This was my first time roasting a whole chicken in Japan, and my first time making gravy sauce and stuffing from scratch (最初から). I didn't want to make a big mistake, so I did a video phone call with my dad. He loves cooking (and talking) so his explanation took almost 45min! His explanation was too long, but he gave me good advice.
In the end, I was able to cook a complete Christmas dinner in Japan! It actually wasn't very difficult. Also, now I have one more small chicken in the freezer that I can eat anytime! 笑
本当に素朴なものですが興味がある人のために...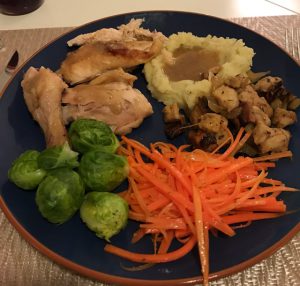 Starting with chicken going clockwise:
-Roast chicken (garlic and herbs rubbed into / under the skin)
-Mashed potatoes (butter, milk, garlic, salt+pepper) with gravy sauce (All chicken juices + broth reduced in saucepan then mix in flour)
-Stuffing (bread, onions, celery with herbs and salt stuffed into the chicken before roasting *plus Lawson secret recipe 笑)
-Carrot Lappe (made from pouch)
-Brussel sprouts (steamed)