Here is a picture for the episode "ゴルゴンゾーラ".
For many years I hated stinky cheese, but now it is one of my favorite snacks... BUT only with red wine! :lol:
Since I came to Japan, I have discovered many amazing delicious foods that I never would have eaten in Canada. Especially seafood! Before coming to Japan, I only ate some simple fish and shrimp, but now I enjoy almost all kinds of seafood! - Like octopus, squid, all kinds of fish, and shellfish too.
I think it is important to try new things sometimes. I will try to keep an open mind, and discover more delicious foods in the future.
Any suggestions? :idea:
[caption id="attachment_20" align="alignnone" width="225"]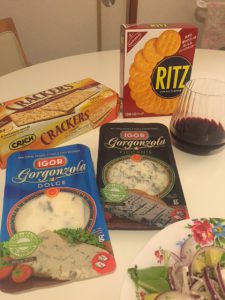 The blue one is "Dolce", and the black one is "Picante" - "Picante" has a much stronger stinky flavor![/caption]